wondercon was so much fun... it was a great con for me. i made a lil' money, made lots of friends and met lots of fans! good times people, good times...
one of the highlights of the trip (or, should i say "big freakin' highlights" was a tour of lucasfilm!
first off...
this is the fountain in front of one of the entrances...
have you ever seen ryan happier? i haven't: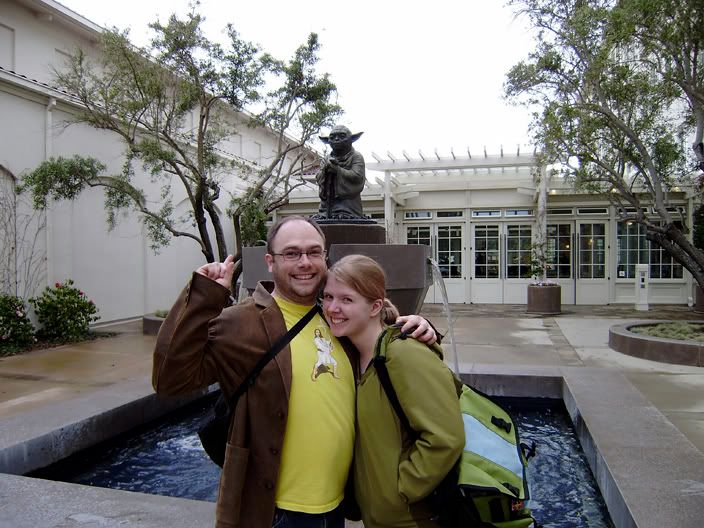 see? happy, happy man... love 'im.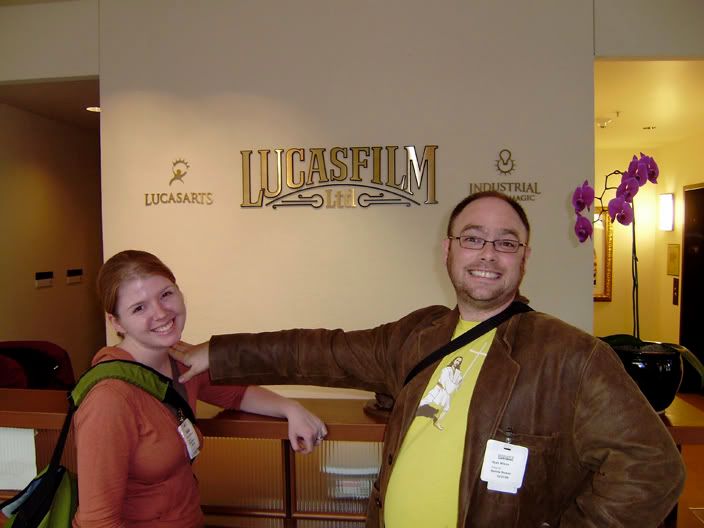 personally, i was taken by all the R2-D2s, beeple-do-beep!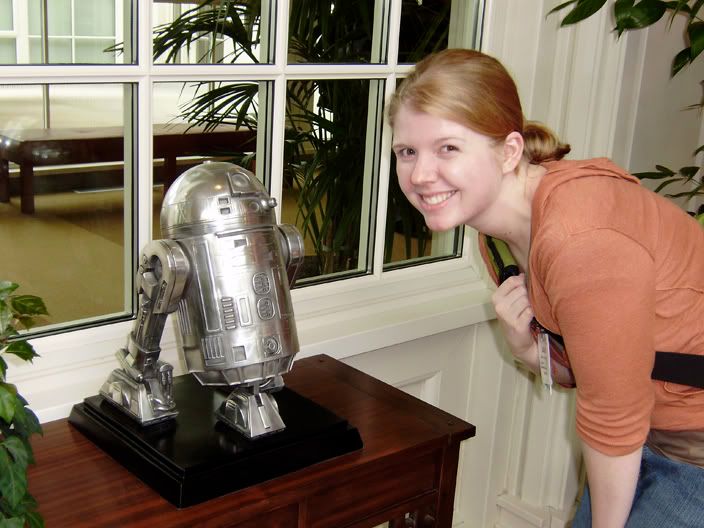 there was all this great stuff in a waiting area... it was awesome!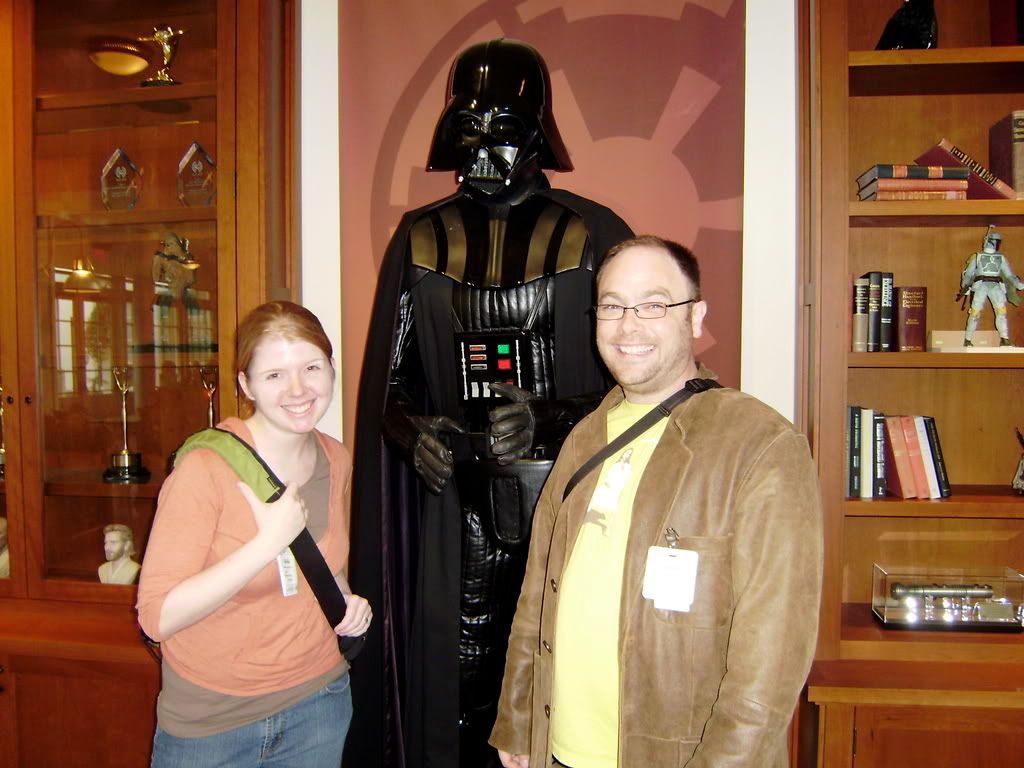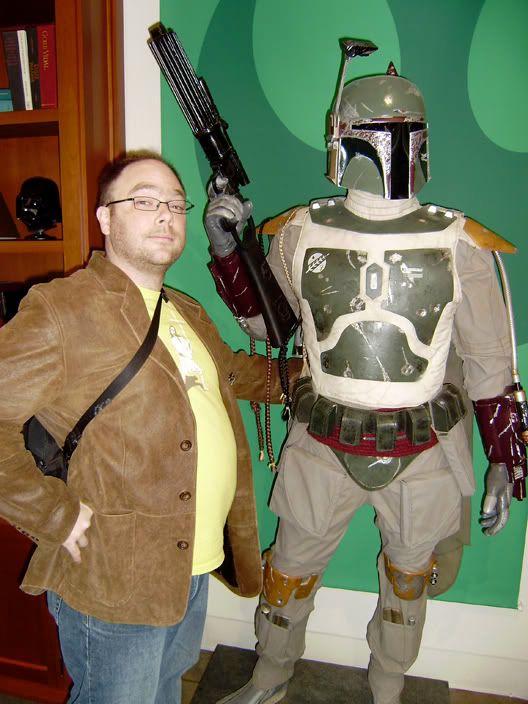 the picture of me in front of the glowing ILM logo made me look like an overfed hobo. so no, you can't see it. *pbbbt*
but here's ryan and with the R2 on the ILM floor: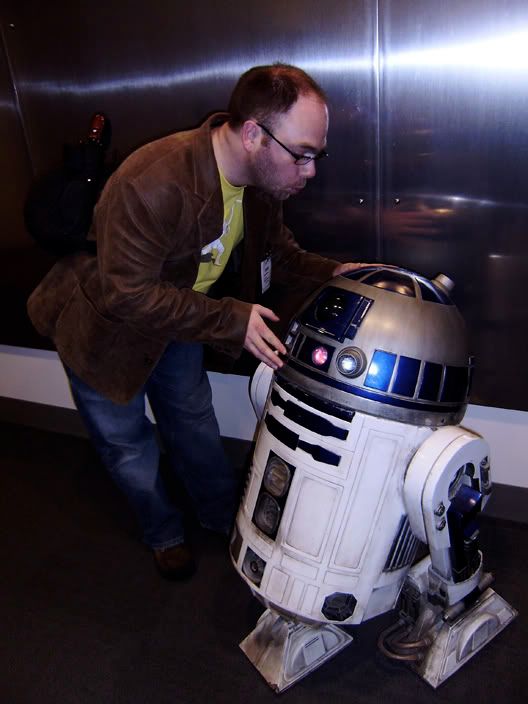 and ryan in front of jar jar in carbonite: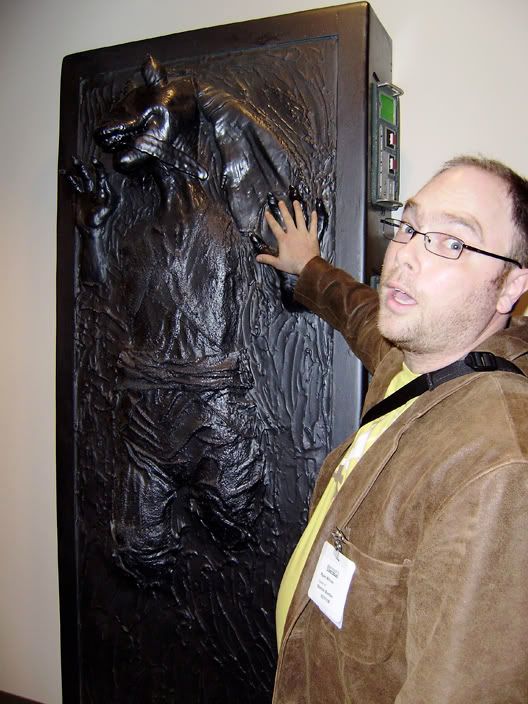 ?!?! upon getting to work, i don't have me with the han in carbonite uploaded! i love that picture! ryan? a little help?
if anything, i'll post it tomorrow :-)
we turned a corner and BAM!
the model for the lemony snicket movie! it was beyond awesome: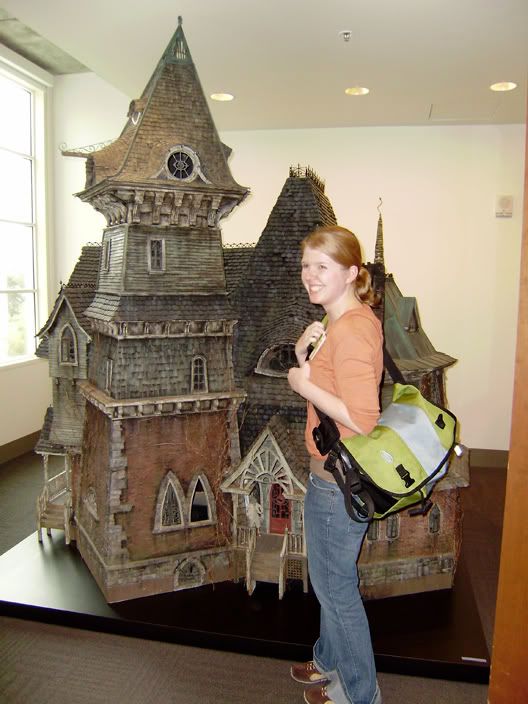 also, a model for davey jones: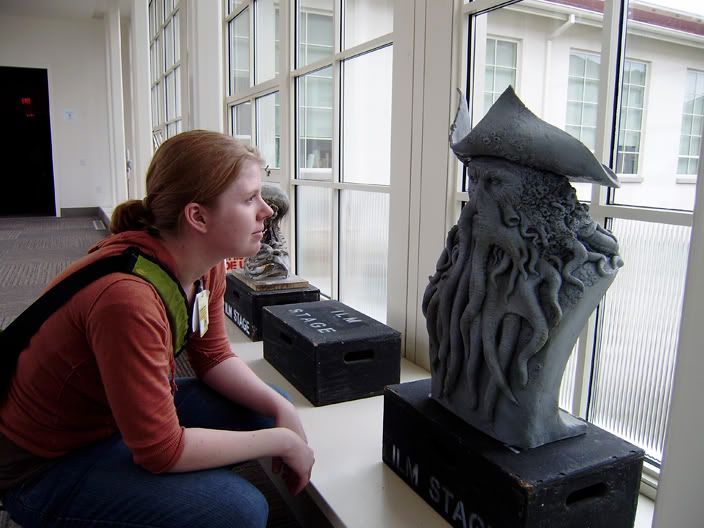 i always kind of wondered where the heck this painting went to, it still scares the crap outta' me... more so now that i've seen it in person: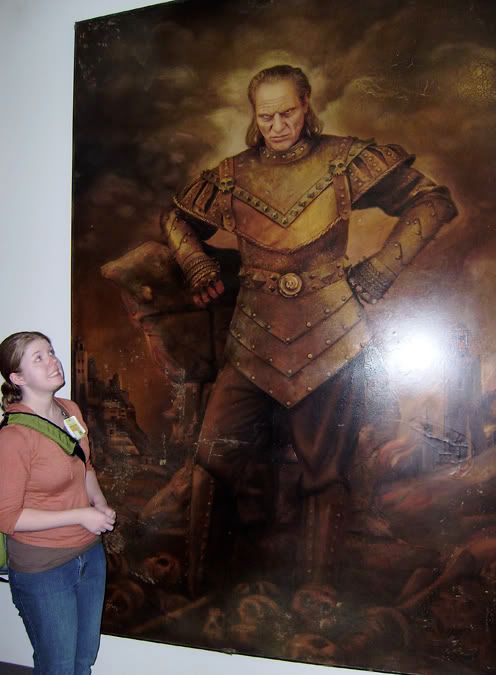 oh... my... frickin'...
i love E,T.
love it, his lil' heart is rigged to light up, i just wanted to squish him...
this puppet is the real deal folks, and he's just there on a little stand!
i still think he would have fit in my messenger bag...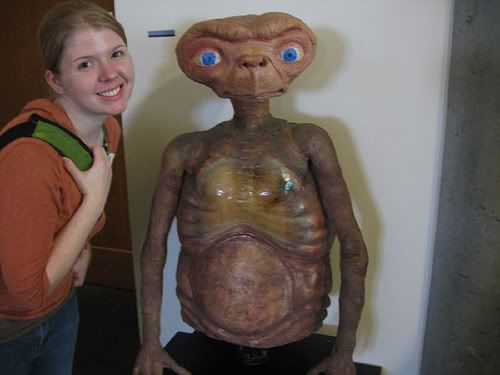 (photo stolen from bonnie's flickr page)
the R2-Mr.T is outside of Steve Sansweet's office, i pity the foo' who mess with R2!
and here's a group of us stealing everything of steve's desk and touching all this things while he was out: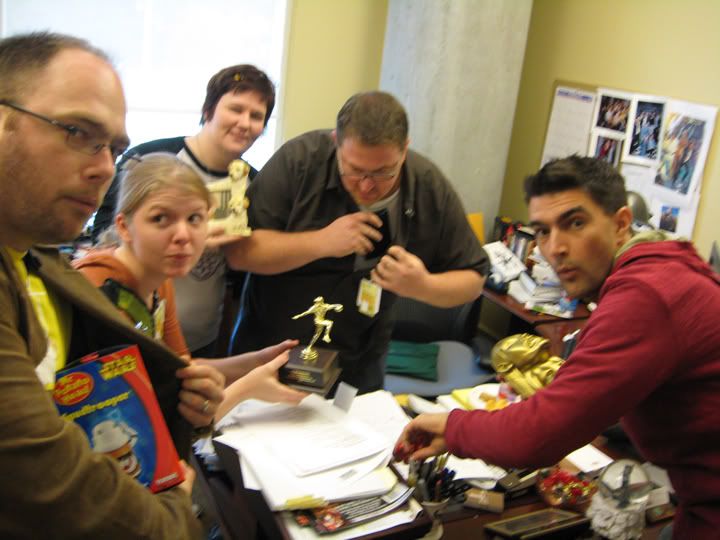 and the week only got better, sweet!
on saturday, i got to teach the "how to draw star wars" panel with bonnie burton and tom hodges. matt busch, the other illustrator on the book, wasn't at the show, so i go to play the part of him :-P
it was a pretty packed crowd!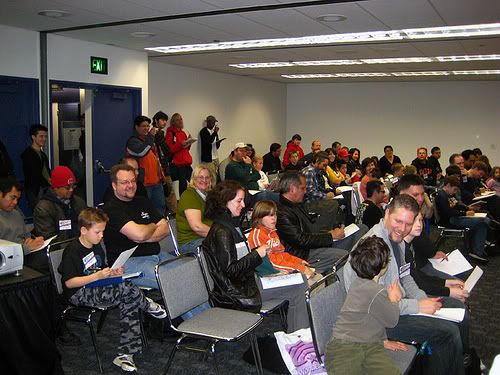 tom threatened a small child for making him draw darth maul: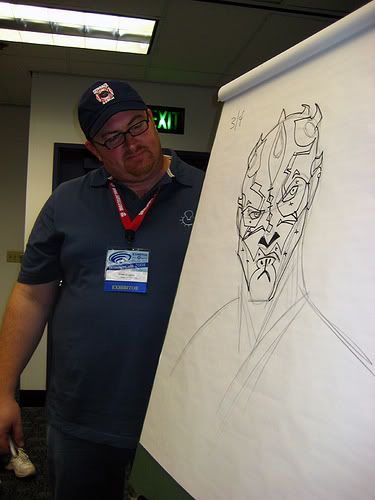 i got a verbal groan from parent's as i suggested that they practice drawing darth maul by getting a sharpie and drawing tattoos all over their own faces.
apparently, not a good idea.
katie can draw banthas:
elvis trooper came and sat in on our panel towards the end, it's like having a celebrity watching you: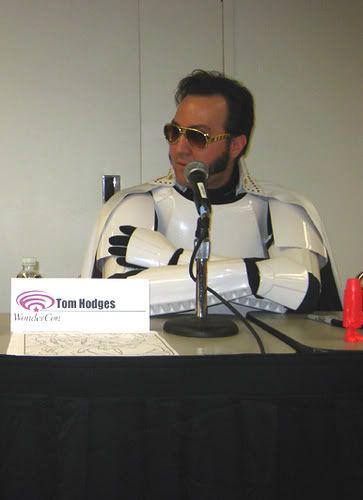 and then i taught everyone how to draw elvis trooper.
i have no pictures to recap this great moment in history.
the 501st was wonderful... the invited me out for a big dinner with some of the nerdiest people in all of san francisco!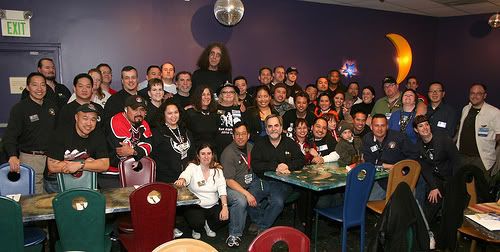 and look! peter mayhew was there! awesome!
all the 501st guys and gals i met, in and out of costume, were great: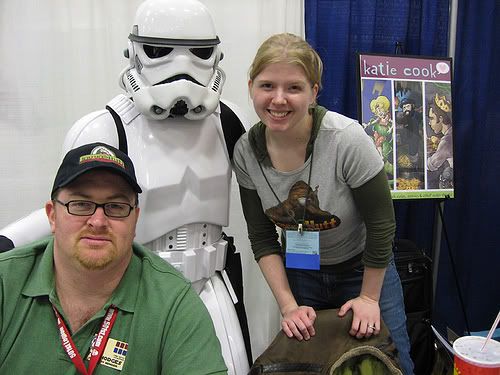 i did a LOT of sketches, here are just a sampling of them... as i never remembered to take any pictures: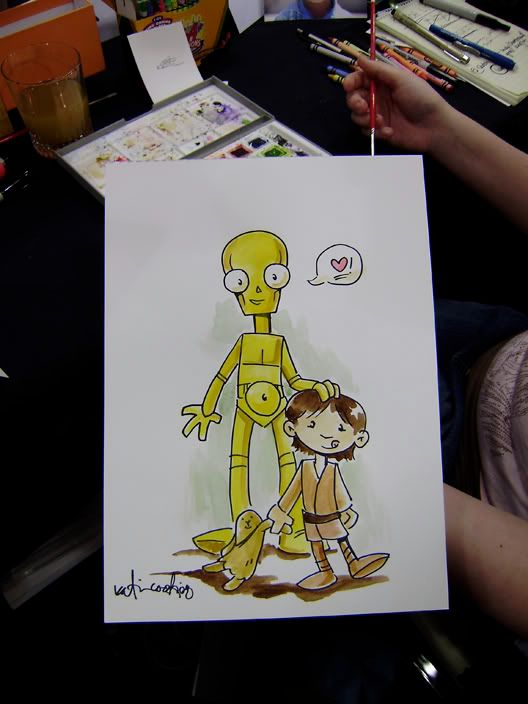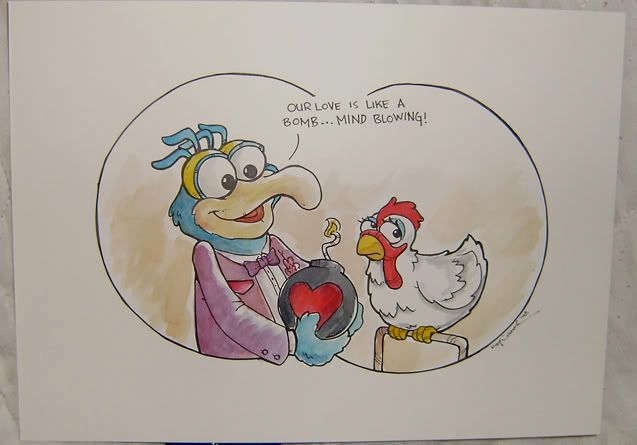 i stole this picture from brian's myspace... mostly because my hair looks FANTASTIC in it. and also because brian is a big fan who was really great to meet. hi brian!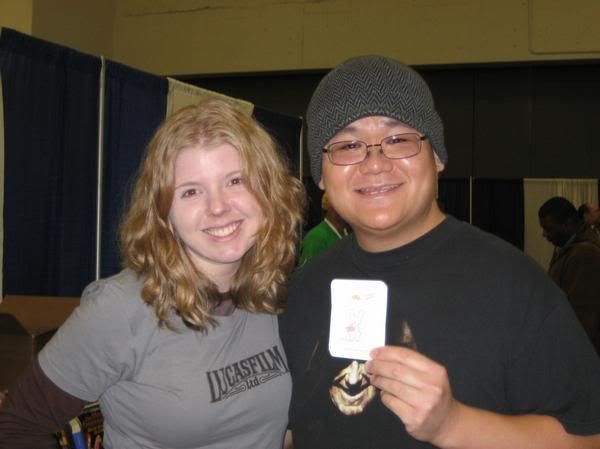 this picture also proves that people who want pictures of me should show up bright an early in the morning while my hair still looks great and i don't look tired, messy and starving... like i start to look around 3 in the afternoon at cons.
and lastly, for those in the know, you know that comic geek speak is not only my favorite podcast, it's the best one out there for comic news, reviews n' more!
bryan deemer, of said podcast, stopped by my table and had me do a drawing on his jam piece: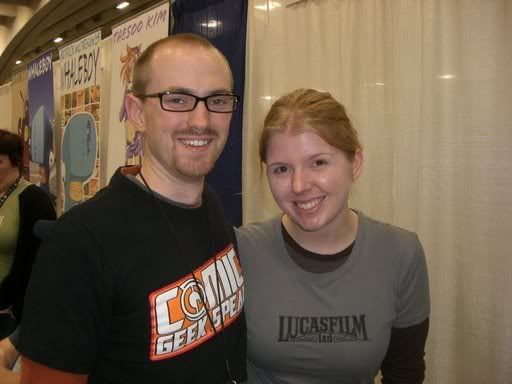 i stole this picture from someone on the CGS forum
bryan was such a nice guy and i was, admittedly, a little star struck (by a podcaster... ha!) he joined us for dinner that night (which was awesome!) and then disappeared into the night for nerdy ventures in the heart of san francisco.
people have also been sending me pictures of drawings i'd done for them and more pictures from the con... as i sort through them. i'll post more!
i also need to give a shout out to
jawastew
,
unteins
and
braja
for coming out to meet me! you guys are all awesome... on lj AND in real life!